Transforming culture: Indigenous art and Australian art museums

by Bernice Murphy
Aboriginal art had a restricted presence in Australian museums in the first half of the twentieth century. On one hand it was framed by scientific study and typological displays in natural history museums that could remain unchanged for decades. [1] On the other hand, if Aboriginal art were presented to highlight aesthetic contents, it frequently still carried a burden derived from nineteenth-century science's interest in 'primitive' stages of society, [2] and thus was framed as 'Primitive art'. [3]
The transformational changes of the later twentieth century could not have been imagined in the 1940s, when the small bark illustrated here [4] was collected on the American-American Australian Scientific Expedition to Arnhem Land (AASEAL expedition) in 1948 led by Charles Mountford. [5]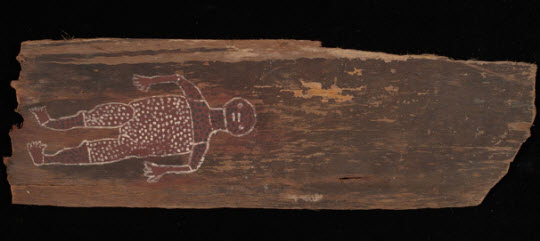 Figure 1: 'The Man, Mik-mik', Oenpelli, Western Arnhem Land, Northern Territory, American-Australian Scientific Expedition to Arnhem Land (AASEAL) collection, National Museum of Australia.
Four decades later, the situation was completely transformed. In the 1980s, following rising attention in metropolitan centres and the supportive work of locally based art advisers in Indigenous communities, [6] some artists from the same region and broad kinship networks as those sampled by Charles Mountford's collecting in 1948 had achieved artistic 'careers', been represented repeatedly in exhibitions, and had reached diverse audiences and collections in the wider world.
This chapter considers Indigenous art's impact in Australian art museums in the last decades of the twentieth century. It highlights how the 1970s and 1980s, in particular, witnessed a series of changes that brought about new kinds of Indigenous engagement and presentation within Australia's public galleries and museums. Such developments could not have been accomplished within previous institutional practices. Historical imagination was challenged in its interpretative tasks. New connections needed to be made, stretching beyond museums and involving near and far-distant communities. In particular, structural change in relation to cultural authority and responsibility for knowledge was required to bring Indigenous perspectives, presence and creativity into mainstream institutions. [7] 
Differing museum approaches to Indigenous culture
It is remarkable how contrasting have been the approaches underlying the ethnographic presentation of Indigenous art in Australian natural history or anthropology museums, and Indigenous exhibitions, often of the same material, in art museums. These differences delineate one of the most complex domains in Australian museography of the last half-century, and one of the least elucidated in museology.
The lack of debate about different museum approaches to Indigenous culture is reinforced by continuing divisions in institutional cultures, research and publications. For example, an important anthology of essays on 'scientific' collecting historically, The Makers and Making of Indigenous Australian Museum Collections, appeared in 2008. The editors glancingly acknowledge that there have been competing value systems shaping the conceptualisation of Indigenous 'art' – especially in the period leading up to the Australian bicentenary of 1988:
Central to the rise of Aboriginal art was the effort of many outside anthropology to wrest art from the anthropologists, and the ethnographic museum, and to relocate it in the art gallery. [8]
However, no collections located in art museums are appraised in the publication. Such divisions are maintained only at considerable cost to Indigenous cultural aspirations to be 'viewed whole': as part of a continuing cultural history and comprehensive story of adaptive evolution across a huge land and islands over centuries.
The rise of specialised exhibitions and curatorship of Indigenous art
Continued institutional segregation distorts the historical record of more than a half-century. Australia's state and national galleries have been acquiring Indigenous art purposively since the 1950s. They have established staffing structures and programs providing permanent attention to Indigenous art as a central aspect of their institutional mission; meanwhile the largest institutions have developed dedicated curatorial departments supporting specialised collections and exhibitions.
A growing number of Indigenous curators have been employed by art museums, some of whom have organised or coordinated some of the most outstanding exhibitions in the country in recent decades. Key examples are:
Hetti Perkins at the Art Gallery of New South Wales (AGNSW), Sydney
Brenda L Croft at the Art Gallery of Western Australia (AGWA), Perth, then National Gallery of Australia (NGA), Canberra – but in the interim also a guest curator of the Indigenous-focused Adelaide Biennial of Australian Art in 2000
Margo Neale at AGNSW, Sydney, Queensland Art Gallery (QAG), Brisbane, and then the National Museum of Australia (NMA), Canberra
Doreen Mellor at Flinders University, SA, then Tandanya National Aboriginal Cultural Institute, Adelaide, and National Library of Australia (NLA), Canberra
Djon Mundine at Bula'Bula Arts, Ramingining, then for AGNSW, Sydney, Museum of Contemporary Art (MCA), Sydney, NMA, Canberra, QAG, Brisbane, and Campbelltown Arts Centre, New South Wales.
Indigenous exhibitions have also included the curatorial input of Indigenous artists; for example, Fiona Foley, Rea, Avril Quaill, Brook Andrew, and again Brenda L Croft, as well as other practitioners – a number of artist-curators having emerged through the Boomalli Aboriginal Artists' Cooperative formed in 1987 in Sydney.
Parallel impact has been achieved by non-Indigenous curators who have made decisive contributions as long-experienced practitioners in the area of Indigenous arts: Judith Ryan at the National Gallery of Victoria (NGV), Melbourne; Margie West at the Museum and Art Gallery of the Northern Territory (MAGNT), Darwin; Wally Caruana and Susan Jenkins at NGA, Canberra; Michael O'Ferrall at AGWA, Perth; Diane Moon, when based at Maningrida Arts and Culture, NT, and for various institutions as a guest curator – and then at QAG/Gallery of Modern Art (GOMA) in Brisbane; and Anne Marie Brody at NGV, Melbourne, and later for the Holmes à Court and Kerry Stokes collections in Perth. Meanwhile, a younger generation is developing new capacities, and their work will play a decisive role in future years.
Dedicated permanent displays in state and national galleries
In the 1980s and 1990s the state galleries intensified their attention to Indigenous art and took affirmative steps to increase its presence and profile in their institutional development. For example, the Art Gallery of New South Wales moved dramatically to upscale its long-standing commitment to Indigenous art with the opening of the Yiribana Gallery in 1994. Special display galleries were established in the main institutions, backed by a more active acquisitions program, dedicated staff curatorship, and attention to thematic, temporary exhibitions of new work evolving in diverse Indigenous communities and situations.
One of the most important of the dedicated permanent displays within an art museum was in fact a single work: The Aboriginal Memorial (1987–88), owned by the National Gallery. Organised by Djon Mundine for the 1988 (bicentennial) Biennale of Sydney, this work memorialising Aboriginal deaths over two centuries is an installation of 200 painted hollow log coffins (Lorrkon) by 43 artists from around Ramingining in Arnhem Land.
Depth of collections
Collections of Indigenous art in art museums have gained dramatically in depth as well as strength since the 1980s. Many institutions now house outstanding constellations of works in their collections that enable in-depth coverage of Indigenous regional and urban styles, as well as intensive representation of individual artists.
The Museum of Contemporary Art (MCA) in Sydney has three complete (pre-formed) collections of Arnhem Land art commissioned or negotiated by this essay's author. One was composed by Djon Mundine when he was in Ramingining, and purchased over three years in 1984–1986; a second collection was formed by Diane Moon when in Maningrida and acquired in the early 1990s, but with ownership title later transferred back to Maningrida in a unique 'cultural agreement' with the originating community. The third collection was a negotiated gift in 1993 of an important older collection formed originally in the United States in the 1970s and 1980s. [9] These collections were acquired across a decade (1984–1993) in which Indigenous art became the most concentrated area within the MCA-Power Bequest's total international collection.
Anthropology's contribution
The contribution of anthropology to the historical documentation and understanding of Indigenous people is unquestionable. There should be no underestimation of the density of the anthropological archive, the extent of its ongoing influence in recuperative knowledge, or the interpretative richness of its resources available for diverse applications. Anthropologists have also played a key role in advocacy and technical support of many Indigenous causes – especially in providing evidence of cultural continuity and historical documentation for cultural history, repatriation issues and native title claims.
However in terms of creative futures, this essay takes issue with an argument that conceptually elevates anthropology's procedures over the very different vantage points of art. This disciplinary challenge dating back to the 1940s when it fuelled manoeuvres behind the academic scenes, [10] has simmered and occasionally been resolutely waged in print over more than a half-century.
The art museum's vantage point
To curators working in art museums, there was a worrying sense that the disciplinary approach of anthropology had insisted on controlling the terms by which Indigenous art was framed and made 'knowable'. Indigenous art seemed irremediably confined and estranged by authoritative interpretation in ethnographic displays. Indigenous voices were rarely admitted in museum texts or publications as more than exotic vocal fragments (in 'language') or intriguing phrases (in Kriol), glimpsed through an edifice of already translated explanation in the speech and thought patterns of the dominant culture.
Art museums come to Indigenous art from a different history and orientation in considering the complexity of visual traditions as expressive of human creativity itself. Art museums favour a non-determined encounter with Indigenous art. They seek to present Indigenous cultural objects as human creativity manifested directly, and thereby to some extent cross-culturally – that is, as bearing signs of art already articulate and capable of engaging a broader audience. The question of enlarged understanding of form and language is a separate question, dealt with through the diverse processes of inquiry by which art history composes a more detailed historical account of the origins, context and meaning of objects – including their social connections.
It is important to note also how much art museums were themselves changing in the later decades of the twentieth century, in the expansion of the whole system of contemporary art and its increasingly diverse manifestations – a proliferation of biennales, triennales, alternative artspaces, artist-run spaces, art fairs, performance festivals, multimedia events and new kinds of cultural gatherings within and beyond the main institutions. This provided an immensely fertile environment for Indigenous art's expansion in one of the most transformative periods for art itself, which was continually tested and redefined by the experimental temper of contemporary art in its direct engagement with a changing world.
From ethnographic representation to creative agency
Australian artspaces, galleries and museums sought something different from – and for – Indigenous art than scientific study had tended to provide. The 'art world' was drawn towards a contemporary experience of Indigenous art and resisted interpretations that historicised or over-determined such experience.
This repositioned Indigenous creativity in the highly tuned space of speculative, open-ended viewing shaped by the art museum as a cultural form. In this space Indigenous artists were not obliged to act as stand-ins or exemplars of whole 'cultures' or 'societies', as had been the burden placed upon their forebears' appearance historically in anthropological or natural history museums. Through exhibitions and commissions, Indigenous artists at last gained the agency of shaping their own appearance and representation in mainstream institutions.
The impact of opportunities on productivity
In the 1980s, in a widening array of new works, proliferating exhibitions, and evolving typologies in the work shown in art galleries, Indigenous artists all over central, western and northern Australia dismantled stereotypes of the static tempo or authoritarian shackles of 'tradition', in the new secular works through which they moved out to distant audiences.
Through direct invitation and commissioning, Indigenous artists were facilitated to produce works of increased scale, diversity and impact. They used means that were in many respects quite different from the communicative contexts of continuing custom and social exchange; in other respects their means were extensions or reformulations of those more intimate and exclusive practices. Performance often accompanied works' installation in public galleries, indicating their referential connections and layering in religion and ritual, in kinship and country.
Indigenous artists were quick to appreciate the political potential of these new exhibition opportunities. They recognised the art museum as a potent civic space, where their work was in dialogue with the most highly regarded expressive achievements of artists from different cultural backgrounds. It could serve as a powerful public arena for presenting the integrity and individuality of Indigenous art forms, as well as projecting the currency of social exchange and desire for independent cultural recognition they conveyed. [11]
Rise of individual careers: John Mawurndjul, Emily Kame Kngwarreye, Clifford Possum Tjapaltjarri
Three biographies suggest the scale of transformation. From within the broad northern region where the 1948 bark was collected, a striking personal development can be followed in the case of Kuninjku artist John Mawurndjul, resident in the vicinity of Maningrida. Mawurndjul's work began to circulate in exhibitions beyond Arnhem Land after 1982. He developed a sense of museum collections and exhibitions as a cultural system in the wider world on a visit to the National Gallery in Canberra in 1983. [12] His work developed remarkably over subsequent years, gaining a more experimental momentum while still being grounded in tradition.
Mawurndjul was included in three highly significant exhibitions presented internationally in the 1980s: in the Dreamings exhibition shown at the Asia Society Galleries in New York in Australia's bicentennial year, 1988;  in the Paris exhibition, Magiciens de la Terre (Magicians of the Earth), organised by Jean-Hubert Martin, Director of the National Museum of Modern Art, Centre Pompidou, in 1989; and in the important Aratjara exhibition [13] instigated by Swiss artist Bernhard Lüthi – an exhibition that, with support of the Aboriginal Arts Board, was shown in art museums in Düsseldorf, London and Copenhagen in 1993–1994.
In Australia meanwhile, Mawurndjul's imposing bark paintings within the multi-sited Biennale of Sydney in 2000, in company with large-scale sculptures from fellow artists around Maningrida, constituted one of the most compelling ensembles in the whole biennale.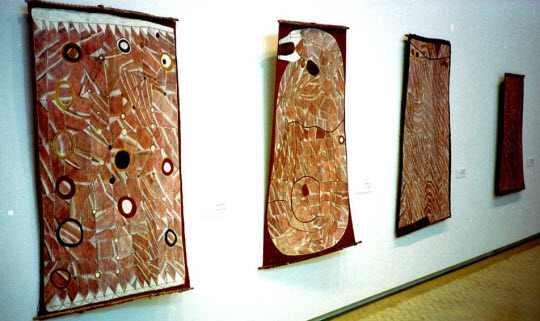 Figure 2: Installation view of paintings (ochres on wood) by John Mawurndjul, Biennale of Sydney 2000. Photo: Museum of Contemporary Art, Sydney.
Mawurndjul won first prize three years later in the Clemenger Contemporary Art Award at the National Gallery of Victoria (in 2003), [14] which included a great suite of 21 works by Emily Kame Kngwarreye that were later acquired by the National Gallery of Australia. In September 2005 Mawurndjul was the subject of a large solo exhibition at the Tinguely Museum in Basel, Switzerland. [15] En route to the opening, he realised a large work as one of eight Australian Indigenous artists commissioned to produce works for the new Musée du Quai Branly in Paris. [16] 
The remarkable stylistic development of the late Emily Kame Kngwarreye (who began painting in 1989 when approaching her eighties) [17] may be juxtaposed with the career of the younger Mawurndjul (born in 1952). While remaining members of Aboriginal communities with a still-active religious life in 'remote' Australia – Kngwarreye in the central desert north of Alice Springs, Mawurndjul in the tropical north, east of Darwin – each evolved directly through inherited traditions and pressed forward to depict their sites and 'country' through unheralded revolutions in imaginative perception.
Both artists eventually gained the honour of foreign retrospective exhibitions: Mawurndjul in Switzerland, and Kngwarreye in Japan. [18]  In comparison with the collective anonymity and obscurity of cultural production in remote Aboriginal communities on the edge of Australian public awareness in their youth, their works had moved into potent forums of international recognition as artists, positioned in dialogue with the great and diverse art traditions of the world. This is an astonishing achievement within a generation!
A similarly interesting biography, beginning earlier, can be constructed for the Anmatyerre-Arrernte painter, Clifford Possum Tjapaltjarri. Having emerged through the Papunya Tula co-operative stimulated in the early 1970s by Geoffrey Bardon, he was powerfully represented (in two works created with Tim Leura Tjapaltjarri) in the first Australian Perspecta exhibition of 1981 in Sydney (AGNSW). [19] His epochal Warlugulong (1967), acquired from this exhibition, began the Sydney Gallery's collecting of Western Desert paintings on canvas. Clifford Possum was later represented in Australia's contribution – all Aboriginal art – to the Bienal de São Paolo, Brazil (1983), [20] with a large work later acquired by the National Gallery of Australia, and eventually hung alongside German star, Anselm Kiefer, as a pivotal painting in the NGA's international survey of contemporary art in the 1990s. He was the subject of a survey exhibition in London in 1988, organised by Iwona Blazwick at the Institute of Contemporary Arts (ICA), juxtaposed with an exhibition of Imants Tillers.
Clifford Possum Tjapaltjarri eventually gained monographs on his work and a four-cities touring retrospective exhibition in Australia in 2003–2004. [21]  In both cases, the artist was interpreted and supported by Vivien Johnson's detailed knowledge of the Papunya movement and of his personal career within that wider context. In 2008 the National Gallery purchased posthumously at a Sotheby's auction his most majestic rendition of Warlugulong (1977), for the record-breaking price for an Aboriginal work of $2.4 million dollars. Thus within three decades a work by Clifford Possum, painted only six years after the Papunya movement began, was already prized as a 'masterwork' of twentieth-century Australian art.
The creation of new networks among Indigenous artists and the rise of urban art
An important aspect of the art world's support of Indigenous art in the 1980s was the establishment of new networks of cross-cultural influence among Indigenous artists from disparate parts of the country. This had not generally occurred in earlier periods, where political struggle rather than creativity had forged common cause across Indigenous Australians of vastly different locations and backgrounds.
Such cross-cultural changes within Indigenous art were fostered through urban artists travelling to the far north and forming relationships with elders and artists in communities with a still-active ritual life. Many artists – for example Lin Onus, Fiona Foley, Robert Campbell Junior, Tracey Moffatt, Gordon Bennett and Michael Riley – gained great stimulus from visits to Arnhem Land. This expanded their experience and sharpened their own sense of the complex identities contributing to Indigenous art. [22]
It could clearly be seen that an intense preoccupation with community and place, with interpersonal narratives and social history, provided shaping forces and shared sensibilities linking Indigenous art from widely disparate parts of Australia, including the Torres Strait and Tasmania.
A line of rising development in exhibitions of rural and urban Indigenous artists can be traced from a small but important exhibition organised at Sydney's Artspace in the early 1980s by Vivien Johnson and Tim Johnson, Koori Art '84. [23] The quickening tempo of urban art's claims in the mainstream was underscored through the formation of the Boomalli Aboriginal Artists Cooperative in Sydney in 1987, and the appearance of Indigenous curatorship, often through a background in art practice – as was the case for Fiona Foley, Brenda L Croft and Avril Quaill, all of whom were associated with Boomalli's founding.
Many urban artists brought a stringently critical view of Australian cultural history to their work. This may be traced in Fiona Foley's reworking of the motifs of colonial dispossession in her two-dimensional works and mixed-media installations; in Destiny Deacon's photographs, acerbically charged with golliwog dolls and parodic recycling of racist, subcultural bric-a-brac; [24] in Gordon Bennett's disordering of the 'cultural machinery' of colonial painting; and in Richard Bell's painting and actions that blitz mainstream composure in rumbustious inversions of stereotype. Wearing his notorious 'White Girls Can't Hump' t-shirt in Darwin to receive the 2003 Telstra NATSIAA art award, a major national event organised annually by the Museum and Art Gallery of the NT, [25] Richard Bell also attacked the rising commodification of Indigenous art – for example in a text emblazoned across the painting (Scientia e Metaphysica [Bell's Theorem]) that actually won the award, stating 'Aboriginal Art it's a White Thing'.
From artists on the margins to Culture Warriors challenging the mainstream
Richard Bell's provocative confrontation with Australian art's history shifted strategically in a later painting (2006) entitled Australian Art It's an Aboriginal Thing. This work incorporated a montage of modernist stylistic devices that insurgently disordered the coherent territory of a 'national' art. The painting caught the mood of the first edition of a new project: the National Indigenous Art Triennial, which opened at the National Gallery of Australia late in 2007.
Curated by Brenda L Croft, Culture Warriors [26] in some respects built on earlier achievements in her Beyond the Pale (Adelaide Biennial of Australian Art) at the Art Gallery of South Australia in 2000. However with the greater scale and impetus afforded by the National Gallery's commitment to a triennial venture, Culture Warriors produced the most substantial intermingling of continuing 'traditional' arts practice alongside rural, suburban and high-metropolitan forms: all marking the variety of adaptive energies across the broad horizon of contemporary Indigenous art in Australia today.
Looking back/ looking forward
The exuberant achievements of recent years have been the result of more than six decades of cumulative effort. It is little known that Australian state gallery directors were lobbying the Australian government in the early 1950s to build an Australian pavilion within the Biennale of Venice, and they urged that 'the very best of contemporary Australian works available' should be accompanied by Aboriginal bark paintings. [27] This was decades before an Australian Pavilion was actually achieved in Venice in 1988 (with an exhibition of Arthur Boyd's paintings), or before Indigenous artists represented Australian art in Venice in the following Biennale. In 1990 the Australian Pavilion presented Trevor Nickolls and Rover Thomas; [28] this was succeeded towards the end of the decade by a trio presentation of Emily Kame Kngwarreye, Yvonne Koolmatrie and Judy Watson in 1997. [29]
Building on the rising consciousness of Aboriginal art's claims within our major institutions in the 1960s and 1970s – and all state galleries had contributed to this recognition, with Tony Tuckson's commitment in Sydney being the most outstanding – the 1980s and 1990s opened out to embrace diverse attitudes and practices in securing growing audiences for Indigenous art. Australia's art museums – and Indigenous artists themselves – meanwhile sourced ideas in a great variety of disciplines in constructing the diverse exhibitions that marked the later twentieth century, including the contributions of anthropology.
Some of the most substantial, impressive and profound exhibitions staged in recent times have occurred where art museums have committed the full resources of their own historical temperament, museography and experimental orientation to the experience of art, drawing on the depth of detailed ethnographical knowledge that natural history and anthropology can contribute, in order to expand the concentration on creative form itself. Outstanding examples of such integration, supported by rich layers of research, were achieved in two beautiful exhibitions co-ordinated by Hetti Perkins at the Art Gallery of New South Wales in recent years – Papunya Tula: Genesis and Genius [30] presented in 2000, and Crossing Country: The Alchemy of Western Arnhem Land Art, [31] presented in 2004. Meanwhile for forceful concentration on thematic and stylistic development of one artist, enriched by careful contextualisation of sources in supporting material, the exhibition of Utopia: The Genius of Emily Kame Kngwarreye, even in a cut-down version at the National Museum in Canberra [32] following its expansive showing in Osaka and Tokyo, impacted on a broad public as one of the great experiences of Australian art in a generation. The Australian curator for this project in 2008, collaborating with Japan's initiating curator, Akira Tatehata, was Margo Neale (NMA).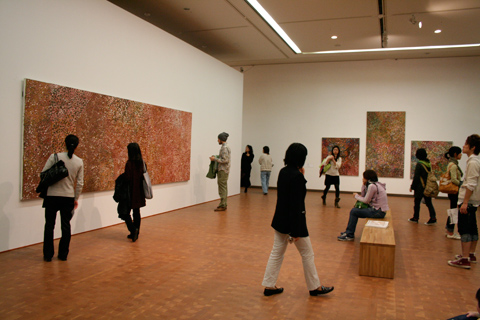 Visitors at the exhibition at the National Museum of Art, Osaka, 26 February to
13 April 2008. Photo: Benita Tunks. Courtesy National Museum of Australia.
The challenge of language
One of the sharp issues for art museums and anthropological museums alike is raised around the issue of languages. Systematic efforts to liberate the richness of Indigenous thought and expression from its clogged rendition in various forms of Creole (or Kriol) are long overdue. It is time to commission proper translations from native-fluency thought; this has been well provided through various efforts that convey John Mawurndjul's ideas to a wider world.  It is important to liberate the nuanced orality of Indigenous speech, so often immobilised as printed text controlled by the foreign discourse of outsiders. It would be unthinkable to interview foreign artists in a portmanteau language that prevented subtlety of thought and expression in terms of first-language fluency. Nevertheless it is still received practice to render remotely located Indigenous artists' thought in Kriol – that is, in a reductive language, acquired in addition to sometimes three or four Indigenous languages spoken already, and therefore a language that cannot convey the richness of concept that is possible only in the layered reference of first-language speech, by which thought itself is fully encoded culturally.
In retrospect
The expansive decades of activity surveyed in this essay have immeasurably enhanced the self-determining options of Indigenous artists (and curators) to pursue multiple kinds of presentation and interpretation of art across a broad spectrum of institutions, places and settings. The vigorous plurality of approaches and contexts now available to Indigenous art has directly stimulated its diversification as well as helping to maintain vital continuities with a rich past. This cumulative history has repositioned Indigenous creativity to a pivotal place in national understanding of Australia's cultural history. In the process Australian art museums have contributed to Indigenous art's rightful recognition among the world's cultural achievements at an international level of esteem.
For sheer diveristy of regional, rural and contemporary Indigenous art's voices today, no single Australian museum can now surpass the historical and stylistic panorama provided by the suite of purpose-built Indigenous galleries of the National Gallery of Australia (NGA extension, Stage 1, opened in 2010).
Footnotes