Horses travel from across Australia and around the world to compete in the Melbourne Cup. International competitors must allow for a 14‑day pre-export quarantine, followed by another 14–21 days in quarantine once they reach Australia. International horses will sometimes be sent to Australia several months before the Cup race, to pass through quarantine, re-establish their training regimen, and adjust to a new climate and different feed.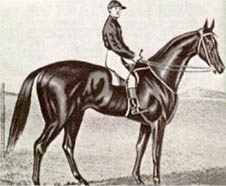 Slideshow
A parade of Melbourne Cup champions
Interstate horses travel by air or horse float, usually arriving well before Cup Day in order to begin their preparations and compete in Cup-qualifying races. The 250 most prestigious races in Australia are categorised as 'group' races. Of the 17,000 racehorses born each year in Australia, less than half a per cent go on to win a group race.